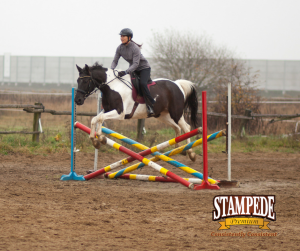 Prevent the winter slump! Tips to exercise your horse during the winter.
The cold weather may keep you indoors, but your horse still needs to exercise. Check out these tips on exercising your horse during the winter.
Lunge the horse once or twice a week. This not only gets the horse exercising, but it gives you an opportunity to brush, clean feet, check for injury, and evaluate the overall condition of the horse.

If you have more than one horse, you can ride one and pony the second. This can be a good time saver and gets both horses working.

If weather permits, ride your horse whenever possible.

Check with local stables to see if their facilities are available to non-boarders. Often, stables allow outside horses and riders to use indoor and/or outdoor arenas for a fee.
Have any more tips? Let us know!
Stampede Premium offers a comprehensive line of forage and bedding products specifically designed to meet the various nutritional and comfort needs of your horses as well as other animals. The Stampede line has grown to become a nationally respected brand offering animal owners unmatched consistent quality at great prices. Pellets, Cubes & Bedding.