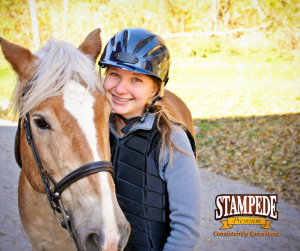 Being a responsible trail rider means leaving the trails, parking areas, and campsites in good condition. To keep trails tidy for other riders, here are some things to keep in mind.
If you can carry it in full, you can carry it out empty. Keep track of your trash, and do a good deed by carrying out any trash you find, even if you didn't produce it. Carry a garbage bag for this purpose. Planning ahead and repackaging can minimize the amount of trash you have to deal with.
Don't ride off the trail. Off-trail excursions can damage native plants, cause erosion, widen impacted areas, and put you and your horse in danger from unseen hazards.
Minimize your interactions with wildlife by not feeding, pursuing, or harassing them.
Don't deface the natural world. Refrain from removing natural formations, carving or spray-painting your name on trail-side trees or rocks, and leave the scenery untouched so the next riders can enjoy it.
If you are camping with your horse, stay in campgrounds that are already established. Clearing new areas, cutting trees and brush, and making multiple fire sites all have a negative impact on wild places.
Be careful with fire. This includes having a way to put out the fire before you build it; paying attention to combustible material around the fire site; keeping track of fire regulations for various locations and seasons; and making sure your fire is completely extinguished any time you leave the immediate vicinity.
Stampede Premium offers a comprehensive line of forage and bedding products specifically designed to meet the various nutritional and comfort needs of your horses as well as other animals. The Stampede line has grown to become a nationally respected brand offering animal owners unmatched consistent quality at great prices.
With guaranteed ingredient analysis, Stampede Premium Pellets consistently offer the maximum in nutritional value in a concentrated form. They are the perfect choice for horses or smaller animals. Stampede hay pellets are easy for your animals to digest and produce less waste.
Stampede Premium offers the ultimate hay cube, peak harvested and naturally sun cured to provide maximum palatability, performance and nutrition. With guaranteed ingredient analysis, Stampede Cubes are consistently consistent in quality across all seasons and are easy to store.