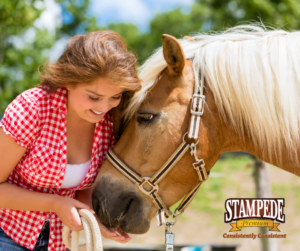 Forage cubes or forage pellets are a great alternative forage source when good-quality hay is not available or a suitable feedstuff. Older horses may benefit from soaked forage cubes if dental issues limit their ability to chew hay, and horses with inflammatory airway disease are often offered forage in the form of cubes, pellets, or chaff to reduce the level of dust and mold that can be associated with hay. Forage cubes often have a higher digestible energy value than mature baled hay, as they are harvested at optimal maturity when digestible fiber (neutral detergent fiber) levels are greatest.
One disadvantage of feeding only forage cubes is the lack of long-stem fiber, which may lead to the horse seeking other sources of fiber to satisfy this need. As your horse is recovering from a colic episode, the most important thing is to provide high-quality forage as grass pasture, hay, cubes, or a combination of these.
Soaking the cubes can increase water consumption that may help prevent dehydration and act as a carrier for powdered supplements and medications. How long the cubes are soaked and the amount of water used depends somewhat on the horse's preference. Generally, at least 20-30 minutes are needed with equal parts water to soften the cubes. Depending on the cause of the colic and the current diet, there may be other nutritional changes to consider to reduce the risk of colic in the future.
Stampede Premium offers a comprehensive line of forage and bedding products specifically designed to meet the various nutritional and comfort needs of your horses as well as other animals. The Stampede line has grown to become a nationally respected brand offering animal owners unmatched consistent quality at great prices.
With guaranteed ingredient analysis, Stampede Premium Pellets consistently offer the maximum in nutritional value in a concentrated form. They are the perfect choice for horses or smaller animals. Stampede hay pellets are easy for your animals to digest and produce less waste.
Stampede Premium offers the ultimate hay cube, peak harvested and naturally sun cured to provide maximum palatability, performance and nutrition. With guaranteed ingredient analysis, Stampede Cubes are consistently consistent in quality across all seasons and are easy to store.